CheckEZ Inspection Frame Introduced by DN Gates Manufacturing
.

The CheckEZ Inspection Frame is a simple, innovative product that is installed between a furnace and the evaporative coil on a split heating and cooling system. The CheckEZ Inspection Frame can be used to do many inspections and tests on a system.
more info

New Carrier Connect™ Wi-Fi Thermostat. .

Commercial building operators are busy and managing a number of competing priorities. To make their lives easier and increase their building's energy-efficiency, Carrier is pleased to announce the release of the Carrier® Connect™ Wi-Fi thermostat for commercial buildings.
more info


Luxaire® residential touch-screen thermostat.
New wireless Fluke Connect meter enables HVAC technicians to create reports and collaborate with peers from the work site.
more info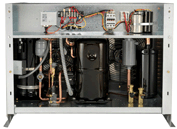 Tecumseh Gen III Outdoor Condensing Units.
Gen III Outdoor Condensing Units with Silver and Platinum Feature Packages, combined with Tecumseh's Lo-Profile Unit Coolers, provide a matched high-side/low-side system.
more info