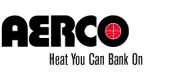 AERCO offers commercial boilers and water heaters that simplify infrastructure, reduce project costs and minimize lifecycle expenses for value-driven schools, hospitals and others seeking long-lasting, reliable, high-efficiency equipment. Founded in 1949, AERCO originated tankless water heating, introduced the first modulating and condensing gas-fired unit for the commercial market and helped pioneer the high-efficiency boiler category. For more information, contact AERCO at 800.526.0288 or visit www.aerco.com.
AERCO, the design leader in high-efficiency boilers and water heaters
Benchmark 3.0 Low NOx Condensing Full Modulation Boiler.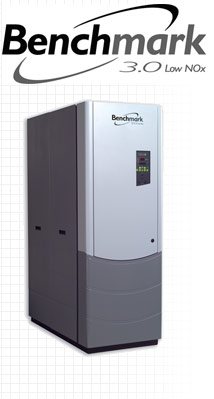 The new BMK 3.0LN employs the same fuel-saving technologies, design principles, and key components that have been used in the field up to a decade as part of the Benchmark 2.0 boiler line. To deliver the extra capacity, the BMK 3.0LN incorporates its proven stainless steel, heat exchanger design. The BMK 3.0LN also incorporates the company's C-More(TM) unit controller and AERCO's patented air/fuel delivery system, which enables the boiler to achieve an unmatched 15:1 turndown, resulting in maximized operating efficiency and seasonal fuel savings.

With an operating range of 200,000 to 3 million BTU/hr., the BMK 3.0LN precisely matches fluctuating loads to minimize boiler cycling and eliminate temperature overshoot. The boiler achieves very high thermal transfers when it's firing at its lowest rates, so the BMK 3.0LN is most efficient during part load operations, which characterize most of the heating season. In fact, the boiler achieves 99.1% efficiency at its lowest firing rate, and is more efficient at 100% input than other boilers with similar capacity.

AERCO was able to increase the capacity of the Benchmark family while maintaining an exceptionally small footprint. In fact, no other boiler with similar capacity is as small as the BMK 3.0LN. Measuring only 79" H x 28" W x 64" D, the BMK 3.0LN is delivered in a single, fully assembled package that fits through a standard doorway. The boiler also features a variety of combustion air and venting options, further simplifying installation.

Designed for hydronic heating applications, the BMK 3.0LN can be used individually or in multiple unit designs. In addition to having a constant set point, indoor/outdoor reset schedule or 4-20 mA signal, one or more boilers can be integrated via a Modbus communications protocol to AERCO's multiple boiler management system (BMS) or facility-wide Energy Management or Building Automation System.

The BMK 3.0LN is designed with a low NOx burner, which makes the boiler well suited for applications requiring minimal emissions. Both the BMK 3.0LN and Benchmark 2.0 Low NOx (BMK 2.0LN) will consistently measure <30 ppm of NOx corrected to 3% excess oxygen at all firing rates. AERCO introduced the BMK 2.0LN earlier this year.
Download Literature: Benchmark 3.0LN Tech Data Sheet